Check out my input on delicious, nutritious Herbs n Spices on the GO, in this Whole Foods Magazine feature: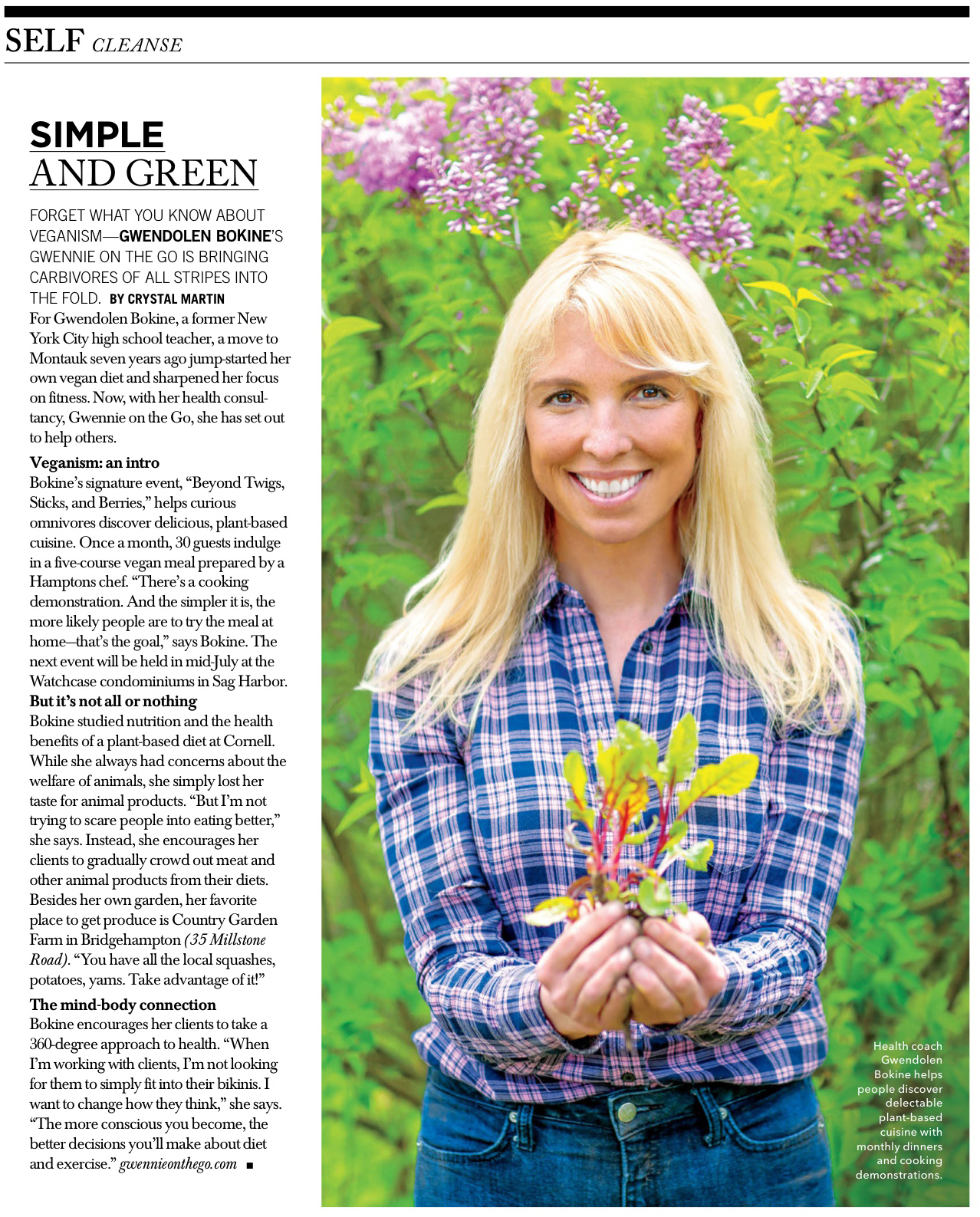 Beyond Twigs, Sticks and Berries: How One Woman is Promoting Plant-Based Diets, One Dinner at a Time
Dine Healthy! Beyond Twigs Sticks and Berries at Sen, Sag Harbor Thursday May 4!
Back by Demand! Beyond the Twigs, Sticks and Berries, Doing it Again!
Beyond Twigs, Sticks & Berries' Unfolds in East Hampton
'Beyond Twigs, Sticks & Berries At Dopo La Spiaggia In East Hampton
First Time Culinary Experience Coming To Montauk Eatery
A Montauk First: Beyond Sticks, Twigs, and Berries!
I'm not focusing on being old. I'm now focusing on being young. I love having fruit first thing in the morning, and I'm much more conscious about what I eat and how it makes me feel. I feel more energy. I feel empowered. Small changes really had a large effect. The Blue Zones video was a great inspiration.
Dr. Barbara D
Gwen inspired me to start my day with fruits and vegetables and gave me a great juice recipe. I lost weight, have more energy and my skin glows. The videos, articles and information Gwen gave me were helpful and inspiring.
Debra H
I was feeling tired, just not right. We worked on making some small changes in what I was drinking and eating, switching Pepsi to flavored seltzer, trying avocado with my eggs instead of cheese, and I felt the difference. I'm still working on it, trying to cut down on meat.
Bobby P
I was in a slump and talked about getting back into the gym. Gwen reintroduced the great outdoors, and I live in the city. I'm now in a regular routine, which I love because I get the added benefits of fresh air and a chance to de stress too. The best part about my experience is that it was gradual and even the smallest of steps made a difference. I could feel it, and I want to keep going.
Emily C
I learned things about food, I never considered. I never thought I could enjoy a meal without meat. Gwen's cooking demonstrations and snack ideas have got me thinking and trying new foods! I'm eating almonds instead of chips.
Paul D
I learned a lot about what triggers my overeating. It had a lot to do with the way I grew up. I hadn't thought about that. I would say working with Gwen, I've definitely become more conscious of why I do stuff or don't.
Robert M
I've become so much more conscious of what I'm eating and have moved towards a more vegetarian diet. Through Gwen's Meatless Mondays and exchange of recipes and cooking ideas, creating meals and enjoying them have taken on a whole new life. I've even gotten my meat eating husband to enjoy some of the amazing meals and desserts I've made. I've also become so much more interested in health issues. Great articles Gwen!
Cynthia B